National PCC Day 2020

With National PCC Day right around the corner we are pleased to share the following information with you: 2020 National PCC Day Virtual Event Agenda, Breakout Session Topics and Speakers, Invitation templates (attached), and the 2020 National PCC Day Registration link.
Theme: Get Connected and Grow!
Date and Time: Tuesday, September 22, 2020. The main event will begin at 2:00 p.m. ET
Agenda:
1:45 p.m. – 2:00 p.m.:
PCC photos will be displayed on a running loop leading up to the beginning of the show
2:00 p.m. – 3:00 p.m.:
Welcome – Get Connected and Grow Your PCC to New Heights
Mail's Role in the Future of Marketing
The Magic of Disney – Guest Speaker, Doug Lipp
Growing Forward: The Future of the Postal Customer Council
Celebrating Excellence
Thank You – Connect, Grow, and Step into the Future!
3:00 p.m. – 3:15 p.m.: Break
3:15 p.m. – 4:00 p.m.: Optional concurrently conducted Educational Breakout Sessions
Breakout Sessions:
Five Benefits to Belonging to the PCC: Judy Antisdal, PCCAC National Industry Vice-Chair, and Mark Fallon, PCCAC Member-at-Large
Election and Political Mail: Dan Bentley, USPS Principal Product Management Specialist, and Don Nichols, National Lead, Political & Mailing Services
Innovation (Informed delivery): Bob Dixon Jr, USPS Director, Product Technology and Innovation
Informed Visibility/Data Metrics: Steve Dearing, USPS Director, Corporate Reporting
Shipping Strategy – Products and Services: Markes Lucius, USPS Director, Product Management, Shipping
Small Business Initiatives: Mary Anderson, USPS Director, Small Business Engagement, and Vicki Stephen, USPS Lead Executive, Small Business Strategy
Mail Repositioning: Elke Reuning-Elliott, USPS Director, Product Management, Mailing
National PCC day registration link: 2020.pccday.com
Please Note: The one-hour agenda titles may slightly change. All sessions will be recorded and posted for future PCC use on the National PCC Day Microsite: https://about.usps.com/what-we-are-doing/pcc-week/
The National PCC Day 2020 Professional Certificate will be available on the PCC BlueShare site on September 23 and should be sent to all PCC members who attend a 2020 National PCC Day event. PCC administrators will receive a listing of everyone from their PCC who attended the National PCC Day event.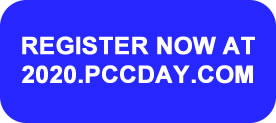 Event Details
| | |
| --- | --- |
| Event Name: | National PCC Day 2020 |
| Show Event Date: | Sep 22, 2020 |
| Individual Registration Rate: | 0.00 |